Jun 16, 2010
Yay for aledol, comment #43, who won our All Terrain giveaway!
Don't forget to reply to my email, and good luck to all in our other giveaways!
Chana has an appointment with the ophthalmologist tomorrow afternoon, so we'll be sure to update you on how that goes.
And now for, Welcome Wednesday! Go check out
Welcome Wednesday
on Take It From Me's blog! If you want to participate and leave your link, you MUST read and follow the rules on Take It From Me's post.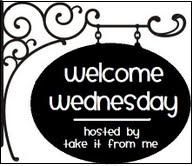 Subscribe To


Posts


Comments
Blogs to Find Giveaways