Jun 13, 2010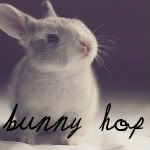 I just joined the
Bunny Hop over at Dropped Stitches
. Here's what she has to say:
"There are a growing number of fun blog hops out there; this one's mine. You don't have to share a craft, a tip, or any other area of brilliance, just share your blog!
For the uninitiated, a blog hop works this way: Join my blog. I WILL follow you back, but it may take me some time to get to all of the blogs. Then add your blog to the list. Grab the button and publish it and the info about the hop and IN A SEPERATE POST, post it on your site (please add the button to publicize the hop - the more people that know about it, the more participants we'll have). Ad your linky to the list. Check out the other blogs and join them if you like them. It is super kind to follow anyone who follows you - you give a little, you get a little. So, let the fun begin!"
Go on over and check out the
Bunny Hop
!
Subscribe To


Posts


Comments
Blogs to Find Giveaways