Jun 9, 2010
I am SOOO honored that
Baba
gave me the Versatile Blogger award! This means that my blog is not just one dimensional but covers a range of topics. Thank you thank you thank you!
Rules
Thank the person who gave you this award
Share 7 things about yourself.
Pass the award along to 15 bloggers who have multi-dimensional blogs.
Contact the bloggers you've picked and let them know about the award.
7 Things About Me
I am Orthodox Jewish, which means (among other things) I dress modestly, keep kosher, keep the Sabbath and all Jewish holidays, and my husband prays three times a day.
I grew up in upstate New York (Rochester).
I love Harry Potter and am anxiously awaiting the November release of The Deathly Hallows, part 1!!!
I could listen to country music all day. I love it!!
I have a few guilty pleasures when it comes to watching TV: Days of our Lives and The Biggest Loser. I also could watch M*A*S*H reruns 24 hours a day with no breaks...well except maybe sleeping cuz I can eat and watch at the same time!
I also love JRR Tolkien's Lord of the Rings series, and have many of his other books. I've been trying to read The Lays of Beleriand, but it's slow reading in poem form.
I am almost 10 weeks pregnant!! YIPPEE!
My 15 Blogger Picks
While you're here, be sure to check out
Welcome Wednesday
!!!! If you want to participate and leave your link, you MUST read and follow the rules on Take It From Me's post.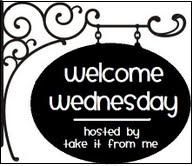 Subscribe To


Posts


Comments
Blogs to Find Giveaways