Jul 5, 2010
CLOSED

For all of you cloth diaper moms out there,
KAMsnaps.com
should be saved to your "cloth diapering needs" bookmarks. When we started cloth diapering, we didn't know what we were in for and bought tons of diapers with velcro and only a few with snaps. The velcro is great because it's versatile, but it wears down pretty quickly and can catch on things in the wash even when you're careful. One of our diapers' velcro had completely bitten the dust (see below)...
It's an adorable shell for pre-folds, but the velcro had just stopped holding. We put the diaper in the "cannot use unless it's a dire emergency" pile...until now!
KAMsnaps
has come to our rescue and saved this diaper (and I'm sure will save many others in the future). Basically,
KAMsnaps
sells all of the tools and materials you would need to replace your velcro with snaps. It even has
tutorials
for how to replace snaps on certain types of diapers. I used the bumGenius tutorial as a guide for replacing the snaps on this shell, and it worked.
Now for the process... I had a bit of trouble. Well, make that a lot of trouble. :-) I am not the most artistically creative person, and crafty things make my head spin. Not only that, but I read the directions partially wrong and that kinda made things MUCH more difficult than it needed to be. First, you need to take off the velcro. It took me nearly an hour to cut and pick the threads away, but that was to be expected. There are lots of threads!! Here is what the diaper looked like during the "in between" stage.
Then, you need to measure and affix the snaps. The pliers that
KAMsnaps
sent were fantastic...once I figured out how to use them. This was where I read the directions wrong on two accounts. First, I didn't put the correct side of the snap (the socket) on the front of the diaper. Not only that, but I was using the pliers backwards (with the cap on the side where the metal part should come down into the middle of the socket). That made for a VERY difficult hour of trying to figure out why the heck it wasn't working right. It wasn't until I had put all of the wrong types of snaps on the front and was working on the tabs when I realized BOTH of my mistakes. I read a bit more in the directions and finally figured it out. I then went back, replaced the wrong ones, started using the pliers correctly, and what do you know it took no time at all. lol Here's the finished product!
The snaps all work perfectly (I checked), and they look almost as if that's the way the diaper originally came to me. Woo hoo!! Now whenever a velcro dies, I'll be able to resurrect the diaper as a snappy.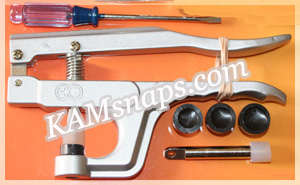 Just last week the
KAMsnaps blog
posted a template for snap placements. Boy, do I wish I had had this when I fixed this diaper! A big thank you goes out to Bella of
Musings of an Organic Mama Squirrel
for providing this template. (Click on the image for the printable version.)
Pros:
No need to through out worn out velcro diapers, just change them into snappy ones!
The snaps themselves are quite inexpensive, so if you make a mistake it's not a big deal.
Once you get the hang of it, the work goes quickly.
The pliers come with EVERYTHING you will need to replace the snaps on all of your velcro diapers.
Don't forget about the fabulous tutorials which will help you along your way! (Provided you follow the directions better than I did...)
You can also use the pliers for other craft projects unrelated to cloth diapering.
Snaps come in many, many assorted colors, styles and designs.
KAMsnaps offers free shipping for orders over $28
Cons:
It's *very* time consuming, even when you know what you're doing. Taking off the velcro is nearly an hour, and I'd budget another 1/2 hour for actually putting on the snaps (more if you're going to do two rows of snaps).
The pliers to apply the snaps are somewhat expensive (about the cost of two to three cloth diapers), but at least you only have to buy it once.
Price:
Pliers are $27.00 ($$$); Snaps are $5 for 200 caps, 100 sockets, and 100 studs ($)
Overall:
I give
KAMsnaps
pliers & snaps
9/10
. The price of the pliers with snaps evens out once you've saved two or three diapers that would've otherwise been thrown out, but it does take a lot of time and effort to change over just one diaper. Sure, it will take less time as you get good at it, but learning takes time.
One of you very lucky readers out there will get to
win a $25 KAMsnaps gift certificate
!
Mandatory entry: (if you do not do this, the rest of your entries do not count!)
Visit the
KAMsnaps website
, comment here and tell me which is your favorite color/style of snap.
Additional entries: (Please leave separate comments for each entry. One additional entry per action unless otherwise stated.)
1) Publicly follow this blog on Google Friend Connect or subscribe via RSS feed.
2) Follow
@KAMsnaps
on Twitter and comment here with your Twitter screenname.
3) Follow
@TheTwinners
on Twitter and comment here with your Twitter screenname.
4) Tweet the following message once per day and comment here each time with the permalink to your tweet for 1 additional entry per tweet.
@TheTwinners has great #giveaways!! Enter today to #win a $25 @KAMsnaps gift certificate! #Giveaway ends 7/19. http://bit.ly/9GT0B0
5) Become a fan of
KAMsnaps
on Facebook.
6) Become a fan of
The Twinners Reviews & Giveaways
on Facebook.
7)
Follow this blog
on Networked Blogs.
8) Follow
KAMsnaps' blog
.
9) Follow my personal blog,
Elana's Musings
.
10) Subscribe to
KAMsnaps' mailing list
. (Link is on their right sidebar.)
11) Subscribe to The Twinners emails and comment here after you've confirmed your subscription.
12) Blog about this giveaway, make sure to directly link to this post and comment here with the URL for 2 additional entries (be sure to leave two separate comments).
13) Add my button to your blog and comment with the URL of your blog for 2 additional entries (be sure to leave two separate comments).
14) Get an unlimited number of additional entries for entering
other The Twinners giveaways
and/or commenting on a non-giveaway post (1 additional entry per CURRENT OPEN giveaway/non-giveaway post, and make sure to leave separate comments for each. Any comments for giveaways that are closed as of 7/5 or non-giveaway posts from before 6/28 WILL BE DELETED.)
15)
Enter my Baby Pool
and comment here with the name you used to guess.
16) Join Swagbucks using
this link
.
17) Vote for this blog by clicking each of the following icons for 1 additional entry per click (a total of 5 additional entries), and you can do this once per day! Make sure to comment 5 times every day that you click to let me know you clicked for each one.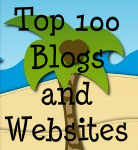 This giveaway will close on
July 19, 2010
at midnight.
The winner will be picked via random.org and will have 48 hours to respond to my email or another winner will be chosen.

Make sure to leave me your email address with at least one of your entries so I can email you if you win. If your email address is on your blogger profile or on your blog that's fine too. If I cannot find your email address, I will mention that when I post the winner of the giveaway, and you'll have 48 hours to email me or another winner will be drawn.

We were sent the KAMsnaps pliers and snaps free of charge for the sole purpose of this review; no other compensation was received. All opinions expressed are my own.
Subscribe To


Posts


Comments
Blogs to Find Giveaways